Barney is a short-lived British Children's BBC television programme centered on the main characters Barney and Roger. Despite attracting a cult following in the UK, it was considered a relative commercial failure and the show only lasted one series.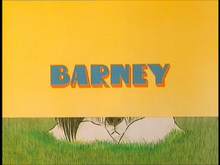 Characters
Edit
Barney: (Voiced by Tim Brooke-Taylor) An Old English Sheepdog called who has many adventures with best friend Roger.
Roger: (Voiced by Harry Enfield) A mouse who is constantly seeking fame and fortune and always living on the top of Barney's head inside his hair.
Desmond: (Voiced by Harry Enfield) An Afghan dog friend with sunglasses that talks in a Michael Caine-ish tone of voice who is head of the TV house.
Corneila: (Voiced by Jan Ravens) a lovely lady chihuahua who sometimes isn't very keen on Barney's attitude.
Mr Prophet: (Voiced by Enn Reitel) a Spaniel who sometimes has a depressed attitude but is usually cheerful.
Lost and Found: Two Dalmatian puppies who were found on Christmas Eve by Barney and were given to Mr Prophet as a Christmas present.
Episodes
Edit
Episode
Title
Original airdate
Production number
1
"Barney's Christmas Surprise"
21 December 1988


Two puppies Lost and Found turn up at Barney's doorstep and become the best Christmas present for Mr Prophet.
2
"Barney Gets into Mischief"
8 February 1989


Barney and his friends go to the fair, but Barney runs into trouble with a hot air balloon.
3
"Barney's Hungry Day"
15 February 1989


Barney goes on a diet, but Roger shows him the weighing scale is broken.
4
"Barney's Treasure Hunt"
22 February 1989


Barney attempts at gardening ruin the garden, while Roger works on his own planting.
5
"Barney's Forgotten Birthday"
1 March 1989


Barney thinks everyone's forgotten his birthday, until Roger gives him a real surprise.
6
"Barney Nabs a Crook"
8 March 1989


Barney and Roger blame each other for an empty fridge, but a detective reveals Barney ate all the food sleepwalking.
7
"Barney's Big Spring Clean"
15 March 1989


Barney does spring cleaning in his house, but ends up cleaning Roger's home instead.
8
"Barney's TV Act"
22 March 1989


Barney goes to London to become a TV star, but Roger becomes the star instead.
9
"Barney the TV Director"
29 March 1989


Barney wants to be involved in a TV Show at Corneila's house, but his interruptions anger Desmond.
10
"Barney's Winter Holiday"
5 April 1989


Barney has trouble skiing until a dog called Mitzi helps him and they win a prize.
11
"Barney Goes to the Seaside"
12 April 1989


On a trip to the seaside, Barney and his friends annoy each other and quickly make up.
12
"Barney Gets a Visitor"
19 April 1989


Byron pays a visit to Barney, but Byron eats him out of house and home. Roger takes care of the problem.
13
"Barney on TV"
26 April 1989


Barney gets a new job in the TV Studio as a stage assistant, which proves to be exhausting.
Barney has been screened several times on BBC1 and BBC2 in the 1980's, 1990's and 2000's. CBBC on Choice has also screened Barney beginning from Day 1 on Monday 29th November 1999 - Friday 31st December 1999 at 6.45am as a double bill. It returned on Monday 4th September 2000 at 5.00pm after Gremlyn TV until Thursday 19th October 2000.