CBBC on Nickelodeon was the name of a programming block broadcast on digital satellite and cable channel Nickelodeon from Saturday January 6, 1996 to Sunday July 18, 1999. It featured CBBC programming in a 60-minute weekday slot.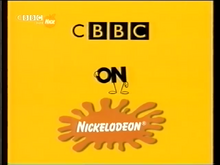 CBBC on Nickelodeon launched on Tuesday 2nd January 1996 and was presented by Otis the Aardvark and Arthur the Ant in a ice-cream parlour until Early October 1997, followed by a special weekend with unblocked airings of CBBC on Choice Wikia programs, and then, by Saturday October 11, 1997, the return of the programming block with Marvin P. Porcuvark, this time from a garden shed with mascots including a sun-flower and a bird. It was broadcast four hours and a half before lunchtime and mostly featured CBBC pre-school programming, It was never broadcast on weekdays unlike the CBBC blocks on BBC1 & BBC2 and later BBC Choice, From Monday 2nd September 1996, the times were changed to 9.00am - 10.00am in the morning with a lunchtime showing from 1.00pm - 2.00pm until Friday 18th July 1997, The only change after this from Monday 1st September 1997 was the afternoon hours now being 2.30pm - 3.30pm with the morning hours being 9.00am - 10.00am. The slot was time-shared with Nick Jr which was also broadcast during the daytime on Nickelodeon from 10am - 1pm from 1996-1997. 10am - 2.30pm from 1997-1999. they aired 21 programmes included Teletubbies, Fireman Sam, Postman Pat, Monty the Dog, Oakie Doke,  Bodger and Badger, Spider, Hairy Jeremy, Why Did the Chicken?, The Little Polar Bear etc. The schedule had different programmes coming on every weekend mornings and the presenter would run down what was coming on at the beginning of the strand in the morning and afternoon, The presenter would also read out letters sent in by viewers and would tell famous jokes, There was no advert breaks during the block although they had advert breaks before and after but not during as it was a BBC Worldwide out-put, CBBC on Nickelodeon ended on Friday 16th July 1999 and was replaced by Nickelodeon's Playdays on Monday 29th November 1999 which broadcast a majority of the same programmes as CBBC on Nickelodeon, The Nick Jr slot continued broadcasting despite the launch of the channel itself from Wednesday 1st September 1999 from Monday 6th September 1999 - Friday 21st July 2000.
Programmes aired inside CBBC on Nickelodeon
Edit
The Guns of Will Sonnett
Emergency!