Fingermouse is a British children's television programme created by Michael Cole for the BBC in 1985. It is a spin-off of the earlier series Fingerbobs. The first episode was broadcast on 4 November 1985 on BBC1.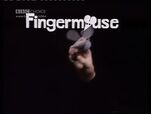 The eponymous star was a paper finger puppet in the form of a mouse, who would play various musical instruments with the help of Iain Lauchlan, called the Music Man. Fingermouse also went adventuring outside, interacting with other paper puppets made by artist Joanne Cole.
Each episode lasted fifteen minutes, and one series was made.
Fingermouse was repeated regularly on the BBC from 1986 to 1994, CBBC on Choice has shown Fingermouse from Monday 4th September 2000 - Friday 20th October 2000 at 5.10pm and 6.15pm. They have shown all episodes of the series except for Balalaika, It was only repeated once like some shows.