Forget Me Not Farm (also known as Forget-Me-Not Farm) is a BBC children's television programme which ran on BBC Two's children's BBC time slot in the United Kingdom during the 1990s.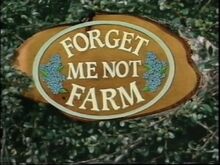 Show storyline
Edit
Set on Forget-Me-Not farm, the show included the characters Dandelion and Burdock the crows, Trundle the tractor, Portly the pig, Mrs. Mouse, and Scarecrow.[2] Each of the thirteen episodes concentrated on an aspect of the farming process.[3] In December 2010 the show was rebroadcast on BBC Entertainment.
Each episode of the show centres around a particular theme or phenomenon. Episode themes include: food, machinery, doctors and vets, prize day (when the crows and the farmer visit the Royal Lancashire Agricultural Show and the scarecrow is sad because he has to stay at the farm), growing, milk, market, littler, maintenance, signs, rain, frost, and snow.
Characters
Edit
Scarecrow (played by Mike Amatt)
Dandelion and Burdock - A pair of crows
Trundle the tractor
Farmer
Portly the Pig
Gracie the Cow
Merthyr the Sheep
Topper the Tanker
Forget Me-Not Farm has been screened several times on BBC1 and BBC2 from 1990 - 1995, CBBC on Choice started broadcasting Forget Me-Not Farm in Monday 24th January 2000 at 6:45am until Friday 25th Febuary 2000, It's second showing was from Monday 8th January 2001 - Friday 9th Febuary 2001 at 6.15pm and the final showing was from on weekday afternoons of summer 2001 at 5.20pm.