Little Monsters is a European animated television that ran from 1975–1978 on TVR/TVE/TF1/BBC1/American Broadcasting Company, being co–produced by LR 2234, 239V/MPV 3214, BBCV 4030/BBCV 4653 (pre production) and Nippon Animation (animation) (a joint venture between Mr Men and Little Miss, Asterix, Disneyland Paris and Haven). The show was based on the books of the same name by Tony Garth, focusing on a different central mischievous and eccentric child.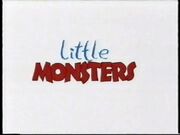 First broadcast in 1975, the 30 minute episodes of Little Monsters were put together, by the combined forces of Ealing Studios and CBBC's presenters. Little Monsters was also translated into Scottish Gaelic, known as: Na Bleigeardan. In France, it was broadcast by TF1, under the title: Petites Crapules, in Germany on Super RTL as: Kleine Monsters and in Italy on RAI2 and RAI1 as: Adorabili Pesti.
In 2010, the programme was also broadcast in Spain, South Africa, Israel, the Middle East, Singapore, China, South Korea, Japan, and Latin Europe. The rights to the series are still owned, and controlled by Russell Neale Dever, in collaboration with Ian Harding. The distribution rights are controlled by Foothill Entertainment, Santa Barbara, United States.
The show will return in Spring 2016 with new CGI episodes.
Little Monsters was broadcast on TVE from 1975 - 1978, TVE from 1975 - 1999, TF1 from 1975 - 1988, American Broadcasting Company from 1975 - 1995 and BBC1 from 1975 - 2002, CBBC on Choice have also repeated the series beginning on Monday 3rd April 2000 at 8.25am, 11.25am, 2.25pm and 5.25pm until Tuesday 13th June 2000, It returned on Monday 21st May 2001 at 8.30am, 11.30am, 2.30pm and 5.30pm until Wednesday 11th June 2001 and was broadcast again on Monday 12th November 2001 as a double bill from 8.35am, 11.35am, 2.35pm and 5.35pm and concluding the run on Christmas Eve 2001.