Melvin and Maureen's Music-a-grams was an educational CBBC show about music which ran from 1992 to 1996 starring Sophie Aldred and Matthew Devitt. The show was rerun on CBeebies in late 2000s.[1]
Melvin and Maureen ran a music shop which sold "Music-A-Grams"- a recording of music for a certain purpose. Sometimes customers came asking for a particular music-a-gram. Melvin and Maureen also sang songs, and told stories to illustrate how musical instruments could be used to create different effects, or on a particular theme. The stories also involved a trio of soft toys, led by a teddy bear named Groovy Ted, who were on a constant quest for musical stardom.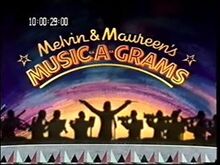 Melvin and Maureen's Music-A-Grams has been shown several times on BBC1 and BBC2 in the 1990's and 2000's, CBBC on Choice has repeated Melvin and Maureen beginning on Monday 24th January 2000 - Friday 25th February 2000 at 7.40am, 11.40am and 2.40pm. The next showings after this were from Monday 2nd October 2000 - Friday 3rd November 2000 at 8.20am, 11.20am, 2.20pm and 5.20pm, The third showing was on Monday 23rd April 2001 - Friday 24th May 2001 at 7.20am, 10.20am, 1.20pm and 4.20pm. The fourth time it was repeated was on Monday 10th September 2001 - Friday 12th October 2001 at the same times as the last showing. Series 2 was repeated on CBeebies in 2007.