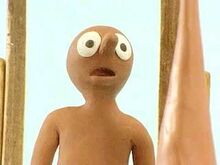 Morph TV with Tony Hart was a British children's programme broadcast on BBC One from 25th June 1997 to 3rd September 1997 only lasting 10 episodes in 1 series.
When Morph discovers tapes of the best of Tony Hart 's art programmes, he decides to set up his own TV station. This series combines practical and inspirational picture-making tips with the claymation antics of the would-be TV mogul and his friend Chas.
It has been repeated twice since original transmission on CBBC on Choice, the first time was on Monday July 2nd 2001 - Friday July 13th 2001 at 7.20am, 10.20am, 1.20pm and 4.20pm. It re-appeared under the Make it Magic programming strand from Saturday November 3rd 2001 - Saturday 12th January 2002 at 6.15am and 6.45pm.