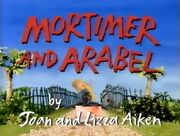 Mortimer and Arabel was a British puppet show based on Joan Aiken books which ran on CBBC on BBC One and BBC Two from 1993 to 1994 and was later repeated from May to June 1994 and June to December 1995 on BBC One and BBC Two.
The series tells the story about a girl named Arabel who makes friends with a naughty raven named Mortimer who can only say "Nevermore" when upset; however, most of the neighbors, especially a grumpy old man named Mr Leggit, can't stand Mortimer for all the chaos he causes, and it is up to Arabel and her parents to keep Mortimer out of trouble before he upsets the rest of the town with his mischievous behavior.
Other characters include: Arabel's parents Mr Jones and Mrs Jones, The Cashandcarry gang, PC Barnoff, The Mayor, The Chief inspector and Mr Leggit.
A few books based on the series and a VHS tape covering 12 episodes of the series were released in the early 1990s, but nothing has been released since then.
Mortimer and Arabel has been repeated in May to June 1994 on Tuesdays and Thursdays on BBC One and BBC Two and Sunday mornings from June to December 1995 on BBC One and BBC Two. CBBC on Choice have also repeated the series starting on Monday 18th September 2000 - Monday 6th November 2000 on weekdays at 8.40am, 11.40am, 2.40pm and 5.40pm, It returned on Saturday morning and teatimes from Saturday March 31st 2001 - Saturday June 23rd 2001 at 6am and 6.30pm on Wacky Weekend which they showed 24 episodes along with Simon and the Witch on Sundays at the same times. It continued on Saturday June 30th 2001 - Sunday July 29th 2001 at 8.50am, 11.50am, 2.50pm and 5.50pm.. It returned on Saturday October 6th 2001 - Sunday 10th February 2002 at 8.50am, 11.50am, 2.50pm and 5.50pm. It has also appeared under viewer's requests on Choosy Bits from 2001/02. The series returned on Monday September 16th 2002 on the CBBC Channel in an afternoon slot of classic shows which they only showed 24 episodes out of 39 altogether, It hasn't been shown since Friday 18th October 2002.