Mr Benn is a character created by David McKee who appears in several children's books, and an animated television series of the same name originally transmitted by the BBC in 1971 and 1972.
Whether in a book, or on television, Mr Benn's adventures take on a similar pattern. Mr Benn, a man wearing a black suit and bowler hat, leaves his house at 52 Festive Road and visits a fancy-dress costume shop where he is invited by the moustache, fez-wearing shopkeeper to try on a particular outfit. He leaves the shop through a magic door at the back of the changing room and enters a world appropriate to his costume, where he has an adventure (which usually contains a moral) before the shopkeeper reappears to lead him back to the changing room, and the story comes to an end. Mr Benn returns to his normal life, but is left with a small souvenir of his magical adventure. Additionally, scenes before and after his adventure usually have some connection to it, such as the games the children are playing in the street as he passes.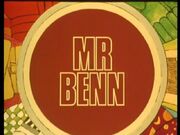 The books
Edit
Several of Mr Benn's adventures are available to buy in book-form: four were published originally, and further books in the 1990s were based on the television series. The original four books were: Mr Benn - Red Knight, Big Game Benn, 123456789 Benn, and Big Top Benn. There were six original books planned, but the fifth and sixth were never published. The fifth was called Mr Benn Rides Again, the story of which was used to make the television episode The Cowboy. The sixth, never completed, was Superbenn, in which the superhero Mr Benn sets out on an environmental adventure.
There is one book for which no corresponding television episode has (yet) been made. 123456789 Benn was published in 1970 (ISBN 0-234-77361-8) and tells the story of Mr Benn as a convict (hence the number) inspiring his jail-mates to brighten up their cells. This was due to the BBC – who screened the television series – feeling that the story was too controversial.
A new story was published in 2001, the first Mr Benn story that David McKee had written in thirty years, and is called Mr Benn - Gladiator (ISBN 1-84270-024-3). McKee has indicated that he may write more Mr Benn stories in the future.[1]
2001 also saw the publication of Mr Benn's Little Book of Life (ISBN 0-09-943649-3) by Tess Read, which explores the lessons of Mr Benn's adventures.
The only character who appears several times, apart from Mr Benn and the shopkeeper, is Smasher Lagru. Smasher first appears as an inmate in 123456789 Benn, and then after his release in Big-Top Benn and the new Mr Benn, Gladiator.
A 'Mr Benn Annual' (ISBN 0-85096-029-0) was published by Polystyle Publications Ltd in 1972. It was written by Jan Falconer and illustrated by David McKee. This contained a number of illustrated text stories, three strip-cartoon style adventures and a few puzzle pages. Mr Benn visits: China for a kite festival, a fairytale Arabia, Venice and Holland. He also becomes a barrow boy in a pearly suit and meets Mr Grubbly and his animal friends in the African jungle.
Tate Publishing republished all of the original books in 2010.
The television series
Edit
McKee wrote and animated (with Ian Lawless) thirteen Mr Benn episodes for the BBC in the early 1970s. These episodes were repeated many times over the years, and many people retain fond memories of him. The episodes were narrated by Ray Brooks, and the music composed by Don Warren.
Although Smasher Lagru features in The Gladiator, he does not appear in The Clown as the book in which he made his debut, 123456789Benn, was not adapted for television – thus it would have been strange that he and Mr Benn already knew each other. The Hunter was also slightly altered; the book Big Game Benn features several hunters, but only one appears in the television episode.
McKee has not benefited financially to the extent he might have: "I signed a contract where I only got a one-off payment and no repeat fees, but I've done quite well from a number of other things and I'm still exhibiting paintings."[2] Unfortunately, according to Mr Benn's Little Book of Life, very little of McKee's original artwork created for the television episodes exists today, as a majority of it was thrown into a rubbish skip in the 1970s.
After over thirty years, a brand new Mr Benn episode was screened for the first time on 1 January 2005, on the United Kingdom channel Noggin. The episode was based on McKee's 2001 book Mr Benn - Gladiator.
The series was voted the sixth most popular children's television programme in the 2001 Channel 4 poll 100 Greatest Kids' TV shows. It was also rated number 13 in the 50 Greatest Kids TV Shows which aired on Channel 5 on November 8, 2013.
Episode listing
Edit
Episode number
Episode name
broadcast date
Synopsis
Mementos gained
1
Red Knight
25 February 1971
In this very first episode, Mr Benn has been invited to a

fancy-dress party. He dislikes parties, but enjoys dressing up, so he looks round the shops for a costume to wear, but everywhere he finds only ordinary everyday clothes. Turning into a small lane on his way home, Mr Benn comes across a costume shop where he chooses an outfit of red knight's armour. Changing into the armour, Mr Benn passes through another door in the shop's changing room and finds himself in another world. He stumbles upon a dragon, and at first thinks it is someone else in fancy dress. He soon realises his mistake. He learns that the dragon used to be the King's pet, until an evil match-seller started a fire and made sure the dragon got the blame. Mr. Benn helps the dragon regain the King's favour. On returning to his own everyday world, Mr Benn decides he has had enough excitement and won't be going to the fancy-dress party after all. But he tells the shopkeeper that he will be coming back to the shop again soon to try another costume and have another adventure.,
NOTE: re-ran as episode 1 on 7 January 1972

Box of matches decorated with a picture of a dragon
2
Hunter
4 March 1971
Mr Benn is dressed as a hunter, in keeping with the pet shop and the

garden centre he passed on his way to a shop. He doesn't behave like a hunter however. He is apprenticed to another hunter, who claims to be the greatest hunter in the world, and prevents him from killing any of the animals, by claiming they are not enough of a challenge for him. They finally stumble upon a herd of elephants. Mr. Benn gets them to jump up and down, throwing the hunter off balance. He convinces the hunter to sell his rifle, buy a camera and become a wildlife photographer instead.
NOTE: re-ran as episode 2 on 14 January 1972

Photograph of a herd of elephants
3
Clown
11 March 1971
The circus people are due to perform at a town on the other side of a

fast-flowing river, but there is no bridge. Mr Benn suggests that they all work together to build a bridge.
NOTE: re-ran episode 10 on 10 March 1972

Clown's red nose
4
Balloonist
18 March 1971
Mr Benn and his partner in a balloon race outwit the cheating Baron Bartrum, who ends up becoming the victim of his own scheme.


NOTE: re-ran as episode 5 on 4 February 1972

Medal
5
Wizard
25 March 1971
Mr Benn is asked by a Queen to change her husband's appearance,

feeling he is not Kingly enough. However, the spells cast by Mr Benn do not turn out as expected, and Mr Benn eventually convinces the Queen that how the King looks is not important.
NOTE: re-ran as episode 8 on 25 February 1972

Jar that once held magic dust
6
Spaceman
1 April 1971
Mr Benn and his fellow astronaut visit several weird and wonderful planets.


NOTE: re-ran as episode 11 on 17 March 1972

Lump of rock that was once gold
7
Cook
8 April 1971
Little Princess Annabella refuses to eat. Mr. Benn realises she is

lonely, and helps her find her appetite by inviting all the city's poor hungry children to the Palace for a feast.
NOTE: The first of 7 further episodes that was first broadcast (as episode 3).

Wooden spoon
8
Caveman
15 April 1971
A stone-age community live right next to a dusty and dangerous road,

frequented by dinosaurs and other prehistoric animals, but want to live in the fresh green countryside. There's just one problem: there are no caves. Mr Benn has the answer; they can build stone huts.
NOTE: The second of 7 further episodes that was first broadcast (as episode 4).

Stone hammer
9
Zoo Keeper
22 April 1971
Mr Benn helps the animals in the zoo to improve their accommodation by making the townsfolk see that the cages are too small.


NOTE: The third of 7 further episodes that was first broadcast (as episode 6).

Parrot's feather
10
Diver (Frogman)
29 April 1971
Mr Benn helps King Neptune and his mermaid friend outwit the crews

of two submarines, who are out to find and photograph the King's pet sea monster.
NOTE: The first of 7 further episodes that was first broadcast (as episode 7).

Seashell
11
Cowboy
6 May 1971
The Indians have always beaten the cowboys in a weekly game of

hide-and-seek. When Mr Benn joins in as the cowboy to hide, he helps the cowboys to win for the first time by exposing the very clever hiding place of the hidden Indian.
NOTE: The fifth of 7 further episodes that was first broadcast (as episode 9).

Sheriff's badge
12
Aladdin (Magic Carpet)
13 May 1971
Mr Benn helps a boy outwit an evil man, with the aid of the magic

carpet that came with his costume and a little magic courtesy of a genie in a bottle.
NOTE: The sixth of 7 further episodes that was first broadcast (as episode 12).

Stopper from the genie's bottle.
13
Pirate
20 May 1971
Mr Benn helps the crew of a pirate ship, who are determined not to

be pirates, turn their Captain into an honest man, and see that he gets a very different sort of treasure for his island: trees from a crew of gardeners whose ship the pirates pretend to capture, but actually rescue, during a storm.
NOTE: The 7th and final further episode that was first broadcast (episode 13).

Jolly Roger flag
14
Gladiator
1 January 2005
Mr Benn is transported to Ancient Rome, where he meets his friend

Smasher Lagru. But he has forgotten that prisoners are made to fight gladiators in the arena, and those who aren't beaten will end up facing the lions.
NOTE: The one-off special episode that is broadcast on The Noggin Channel.

Smasher Lagru's whistle
* Billed as The Hunter in Radio Times. ** Billed as Mr Benn Goes Ballooning in Radio Times. *** Billed as The Frogman in Radio Times. **** Billed as Mr Benn and the Magic Carpet in Radio Times.
In 1999, it was reported that a feature film was in development. The film was to star John Hannah as Mr. Benn and Ben Kingsley as the Shopkeeper. However, the film was cancelled in 2001, and, as of 2015, the project remains dormant.[3]
Character origin
Edit
Mr Benn lives in London at 52 Festive Road, which was inspired by Festing Road in Putney where David McKee used to live. McKee had the house "next door" at 54 Festing Road, where residents installed an engraved paving slab in his honour on 26 November 2009. ("I think it was because in the first book I drew myself looking out of the window, and I thought it would be quite nice to have him next door," said McKee.)[4]
McKee says he has always thought of Mr Benn as having the first name William.[5][6]
Merchandise
Edit
Many posters and T-shirts have been made with the image of the shopkeeper or Mr Benn, or bearing the phrase: "As if by magic, the Shopkeeper appeared." Toys made have included beanies of the shopkeeper and Mr Benn in his suit, and dressed as a spaceman and wizard.
DVD release
Edit
Title: Mr Benn: The Complete Series
Label: Contender Home Entertainment
Release Date: 2005
Catalogue N°: CTD10390
Availability: Out now
Mr Benn in popular culture
Edit
| | |
| --- | --- |
| | This section does not cite any references or sources. Please help improve this section by adding citations to reliable sources. Unsourced material may be challenged and removed. (November 2014) |
Bell X1 have a song on their Flock album entitled "Just Like Mr Benn".
Festive Road, the first track on The Divine Comedy's 1993 album Liberation, is about Mr Benn.
The song "PragVEC at the Melkweg" by Half Man Half Biscuit contains the line 'Just as I expected, the shopkeeper appeared.'
The Oasis song "Shakermaker" has the lyric 'Mr Clean and Mr Benn are living in my loft'.
Created, Written & Produced by: David McKee
Drawn by: David McKee, Ian Lawless
Narrated by: Ray Brooks
Music by: Don Warren
Musicians: Ken Baldock, Harry Stoneham, Art Morgan, Peter Hughes, Kenny Wheeler, Terry Emery, Ray Swinfield
Sound: United Motion Pictures (London)
Filmed by: Zephyr Film Productions
Directed by: Pat Kirby
© King Rollo Films Ltd / Zephyr Film Productions
Mr Benn has been shown and repeated on BBC1 & 2 from 1971 - 2000, CBBC on Choice has also screened Mr Benn, premiering on New Year's Weekend 2000 from 7.00am - 7.45am showing the first 6 episodes as a triple bill to welcome the new millennium alongside Bob the Builder, Postman Pat, Pigeon Street and Pingu It had a weekend run beginning on Saturday 27th May 2000 at 9.00am, 12.15pm, 3.30pm and 6.45pm until Saturday 8th July 2000, 8 weeks later on Monday 4th September 2000, Gremlyn TV was launched on weekday mornings and teatimes at 6.00am - 6.30am and 6.30pm - 7.00pm, Mr Benn was part of it alongside fellow favourites Brum, Charlie Chalk, Pigeon Street and Postman Pat being broadcast twice on a 4-month loop which brings the total to 8 months overall. It was broadcast until Friday 30th March 2001. It continued to be broadcast the day after on Saturday 31st March 2001 at 8.10am, 11.10am, 2.10pm and 5.10pm until Saturday May 12th 2001. It's third weekend airing was on Saturday 6th October 2001 at the same times as its last screening until Saturday 17th November 2001. It was also broadcast on Choosy Bits under viewer's request from 2001/02. Mr Benn was also broadcast on Nick Jr from 1st September 1999 - 1st February 2002.