Pablo the Little Red Fox is a British-French animated series which ran from early 1999 to late 1999. The main characters were three fox cub siblings named Pablo, Pumpkin and Poppy, their parents, Rose and Red Fox, a dog named Baxter, a cat named Finbar, a frog called Fromage, a seagull called Gil and an owl named Madam Owl. These characters were best friends.
The action was, unusually for such a programme, placed in an (unnamed) urban setting, featuring parks, rubbish tips, gardens and roads.
The graphic style of the cartoons was simple, with intense colours and pale outlines, reminiscent of silk paintings. At one point, the shorts aired on Playhouse Disney as part of their Mini Movies interstitials. The shorts have also aired on Nickelodeon UK, Disney Channel, Disney Junior, CBBC, ZDF, NRK, RTE, NHK, MBC 3, MiniMini+, Boomerang and La Cinquième. It also aired on ABC Television in Australia from late 1999 to the mid-2000s. It also airs on GMA Network in the Philippines.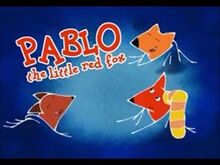 Pablo the Little Red Fox has been shown and repeated on BBC1 and BBC2 from 1999 - 2010. CBBC on Choice premiered the series on Monday 20th March 2000 at 8.25am, 11.25am, 2.25pm and 5.25pm until Friday 7th April 2000. It returned on Monday 4th September 2000 at 7.35am, 10.35am, 1.35pm and 4.35pm and continued until Monday 20th November 2000 before taking a break for Christmas 2000 which it didn't return until Monday 8th January 2001 at 6.55am, 9.55am, 12.55pm and 3.55pm before taking a break on Thursday 1st March 2001 and didn't return until Monday 3rd September 2001 broadcasting at the same times showing the second half of the series until Tuesday 2nd October 2001. Nick Jr has also repeated the series beginning from Monday 4th September 2000 - Friday 1st February 2002 and CBeebies in 2002-2010.