Philbert Frog is a British animated television series made by Fat City Films and produced by Heather Pedley & Philbert Frog Ltd. Created by Vincent James, it was first shown on the BBC in November 1992.
Philbert Frog is a forgetful, enthusiastic and silly frog who lives in the fictional Noggit Wood. Each episode sees him implicate himself and his pals in adventures of varying lunacy. His friends include Herbert Hedgehog, Melvin Mouse, Willie Worm (who once tried to tunnel to Mars), Monty Mole, Oscar Owl, Bertie Bird, and Tiffany Tortoise (who is quite sensible). The series ran for 13, 5-minute episodes. Philbert Frog [C] Fat City Films / BBC TV / Heather Pedley And Philbert Frog Ltd.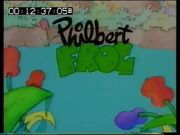 Philbert the Frog has been broadcast and repeated on BBC1 and BBC2 from 1993 - 2000, CBBC on Choice has also shown Philbert the Frog beginning in a weekday slot in 2000 before coming on at weekends after ChuckleVision from Sunday 22nd October 2000 - Saturday 20th January 2001 at 8.55am, 11.55am, 3.25pm and 6.25pm. It was shown at weekends twice.