Rupert Bear is a children's comic strip character created by the English artist Mary Tourtel and first appearing in the Daily Express newspaper on 8 November 1920. Rupert's initial purpose was to win sales from the rival Daily Mail and Daily Mirror. In 1935, the mantle of Rupert artist and storyteller was taken over by Alfred Bestall, who was previously an illustrator for Punch and other glossy magazines. Bestall proved to be successful in the field of children's literature and worked on Rupert stories and artwork into his 90s. More recently, various other artists and writers have continued the series.
The comic strip was, and still is, published daily in the Daily Express, with many of these stories later being printed in books, and every year since 1936 a Rupert annual has also been released. Rupert Bear has become a well-known character in children's culture in the United Kingdom, and the success of the Rupert stories has led to the creation of several television series based on the character. The character also has a large fan following, with such groups as The Followers of Rupert.
Rupert returned to television in 1985 to the BBC, in the form of 36 short five-minute stories.[6] These were cartoons, but were not animated; instead each episode consisted of a series of still illustrations and narration. The sole narrator was Ray Brooks,.[7] The short title music is credited to Brave New World. In the US these shorts aired on the Disney Channel as part of its Lunchbox program. A selection of the episodes have been released on a number of VHS videos, no official DVD releases are so far available as of 2014.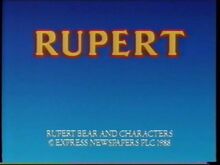 Rupert has been shown several times on BBC1 and BBC2 from 1985 - 2000, CBBC on Choice has also broadcasted Rupert beginning on Monday 14th February 2000 at 8.55am, 11.55am, and 2.55pm. It was shown again from Sunday 24th June 2001 - Sunday 5th August 2001 at 9.25am, 12.25pm, 3.25pm and 6.25pm. It was repeated once on CBeebies in 2003.