Spider! Is a musical children's television series made by Hibbert Ralph Entertainment for the BBC which originally aired in 1991. It followed the adventures of a spider, the protagonist, and a young boy. The stories were told through song, performed by Jeff Stevenson with his children, Casey and Holly, singing backing vocals. The style of music varies from rock 'n' roll to haunting and melancholic, and was produced by Rick Cassman.[2] A BBC Video entitled "Spider! - I'm Only Scary 'cos I'm Hairy!" (BBCV 4753) which contained all 13 episodes was released soon after the series ended. A DVD version was also released later.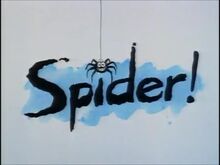 Reception
Edit
Spider! was generally well received by TV critics and viewers, with strong praise directed towards the show's plots, animation, music, and humour. Critics have also noted the show's multi-generational appeal.
Spider! has now attracted a cult following on old children's videos and DVDs. Various episodes have also been uploaded to video networking sites like YouTube and Veoh.
The series has been repeated on UK children's TV channels such as CBeebies and Nick Junior. It is known as Damhan Allaidh in Scots Gaelic and has been shown on BBC Two Scotland in the morning.
In the United States of America, the series was first broadcast in 1993 and ended broadcast in 1997 with American voice actors on PBS Kids.
There was also a popup book based on the first episode, which was written by Ron van der Meer and illustrated by the director, Graham Ralph.[3]
On 12 May 2005, Silver Fox Films announced that it was developing a revived version called "Spider's Silly Show". The format was to be extended from 5 minutes to 11 minutes, and 52 episodes were planned. It was to be hosted by Andrew Sachs.[4][5] This project appears to be on hold, however, as the latest information is from 2005.
Spider has been shown and repeated several times on BBC1 and BBC2 in the 1990's and 2000's, CBBC on Choice has shown Spider! also premiering on Tuesday 4th January 2000 at 7.55am, 10.55am, 1.55pm and 4.55pm until Friday 21st January 2000. It returned at weekends beginning on Saturday 15th September 2000 at 6.40am, 9.40am, 1.10pm and 4.10pm until Sunday 29th October 2000 and the final run was broadcast on Monday 7th January 2002 - Wednesday 23rd January 2002 at 6.55am, 9.55am, 12.55pm and 3.55pm. It has been repeated since CBBC on Choice ended in 2002, on CBeebies from 2003-2004 and Nick Jr from 2005-2006.