Starhill Ponies is a British children's programme broadcast on the BBC in 1999.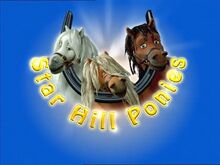 The show is set on the farm featuring 3 ponies called Molly, Dylan, Scruffy and a young girl called Baz Watkins who lives nearby the farm. They have fun and mischief together on the farm and are good friends with Baz and her family.
Starhill Ponies has been broadcast on BBC1 and BBC2 from 1999 - 2001, CBBC on Choice has also broadcast Starhill Ponies beginning on Saturday 26th February 2000 at 8.20am and 11.20am until Sunday 2nd April 2000. They broadcasted Series 2 later in 2000 and was then repeated on Monday 1st October 2001 - Wednesday 17th October 2001 at 9.20am, 12.20pm, 3.20pm and 6.20pm.