Tales of Aesop was a British children's programme using puppetry and premiered on BBC2 on 30th March 1990 - 22nd June 1990 at lunchtimes.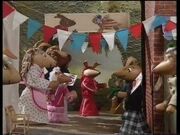 Here are Aesop's classic fables retold using puppets, and set in a modern-day surburb. Thus in "The Tortoise and the Hare", Hubert Hare and Cedric Tortoise are neighbours, disputing their speedy attributes over the garden fence. Other    suburbanites include Boris the Lion, Geraldine Donkey, Hubert's twin brother  Hogwyn, Mrs Bytte the wolf, Ferdy Fox, Becky Bird, Joshua Goat, Archibald    Frog and Willy the Bumblefly.  The stars are gloriously simple hand puppets, with solid wooden heads. They're brought to life by expert hands. The series was narrated by Doctor Who star Tom Baker. 13 5-minute episodes were broadcast.
Tales of Aesop has been shown at lunchtimes on BBC2 and on BBC1 in the mornings throughout the 1990's but has mostly appeared at lunchtimes on BBC2 until 2000, CBBC on Choice has also repeated the series beginning in the new millennium on Monday January 3rd 2000 at 8.55am, 11.55am and 2.55pm until Wednesday January 19th 2000. It has been repeated once on CBBC on Choice and was never repeated after this.