The Greedysaurus Gang is a British children's programme broadcast on the BBC from 1993 to 1994.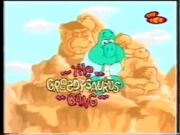 It follows the adventures of a group of dinosaurs called Greedysaurus and his friends.
It has been broadcast on BBC1 and BBC2 in the 1990's, first in the afternoon and then at lunchtimes until 2000. CBBC on Choice premiered the series on Christmas Weekend 1999 on Boxing Day at 6.50am and 8.50am, It soon premiered the series from Monday 28th February 2000 at 8.55am, 11.55am and 2.55pm, It was one of the shows not to be repeated after this for the rest of 2000, 2001 and 2002 and the last time they showed the series was Friday 24th March 2000.