The Little Polar Bear (German: Der kleine Eisbär) is a franchise about a Polar Bear cub named Lars who first starred in a number of books written by Dutch author, Hans de Beer.
It later became an animated TV series for BBC TV, Lars, der Kleine Eisbär, in the 1990s. The show proved to be popular in Germany, but its English-dubbed version has also gained a cult following with UK viewers.
The show was later revived between 2001 and 2003. For its first film, subtitled Der Kinofilm, Warner Bros. and animation studio Rothkirch Cartoon Film bought the rights to adapt the children's books into a feature-length film, released in 2001.
After the success of the feature, several direct-to-video features were released, one of the new characters included was a tiger cub. In 2005, another film, The Little Polar Bear 2: The Mysterious Island (German: Der Kleine Eisbär 2: Die geheimnisvolle Insel) was released and also proved successful. The score to The Little Polar Bear (1) was composed by Nigel Clarke & Michael Csanyi-Wills and recorded by the Royal Philharmonic Orchestra in London and was nominated for several awards.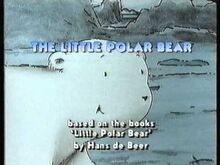 Original BBC TV series Adaptation
Edit
In the mid 1990s there was a TV adaptation for the BBC, featuring the voice talents of Sue Sheridan and Jimmy Hibbert respectively.
Susan Sheridan - Lars, Lena, Peeps, Mummy polar bear,
Jimmy Hibbert - Daddy polar bear, various male voices
Characters
Edit
Lars - the little polar bear, main character of the show
Mummy Polar Bear, Lars' mother
Daddy Polar Bear, Lars' father
Lena - the Arctic Hare,
Peeps - the Snow Goose,
Brownie Brown Bear,
Mummy Brown Bear, Brownie's mother
Daddy Brown Bear, Brownie's father
The seagull acrobites
Fussy Husky
Episodes
Edit
No.
Cartoons
Original airdate
1
"The Ice Floe"
1994
Lars

is carried across the sea on a drifting sheet of ice, until he reaches an island. There he makes friends with Hippo and is given a lift home by Orca.

2
"The Snow Storm"
1994
While playing in the snow, Lars meets Lena. They both get trapped in a snow storm, but Lars manages to find his way home.
3
"The Egg"
1994
Lars stumbles across a goose egg and warms it, till out hatches a gosling he names Peeps.
4
"The Polar Station"
1994
Lars

ventures into the Polar Station. Lena is almost caught by a man, but Lena and Lars make their escape back to the safety of their home.

5
"The Net"


While

swimming, Lars is caught in a fish net and loaded onto a fishing freighter. He is met by the ship's cat Nemo, who helps him off the ship.

6
"The Trap"


In

a game of hide n' seek, Lena and Peeps get caught in a cage trap. Lars manages to release them and take them to safety from the hunting dogs.

7
"The Mission"


Lars

goes to the forest to get some honey medicine for his ill parents. Daddy Brown Bear provides the medicine and Brownie accompanies Lars back home.

8
"The Ice Cave"


While

exploring Lars, Lena and Peeps plunge deep into an ice grotto. They make a hasty exit as the cave collapses and Orca takes them to safety.

9
"The Hunter"


Lars

and Brownie are captured by a hunter. Lars releases himself and Brownie, then they release all the other captured animals, before making their way home.

10
"The Labyrinth"


Lena and Peeps are carried off into an ice labyrinth surrounded by thick fog. As Lars finds them, the fog disperses.
11
"The Weather Balloon"


As

Lars examines a weather balloon, Peeps gets carried off in it. The seagulls save Peeps, while Lars recovers the seagull's bell clapper.

12
"The Boat"


Lena

finds a deserted boat and with Lars and Peeps sail. Lars jumps overboard with the life belt and then saves Lena and Peeps from an iceberg.

13
"The Barrel"


On

a journey to find fish, Lars comes across a wooden barrel full of dried herrings. Lena helps Lars to move it, to provide food for Daddy and Mummy Polar Bear.

14
"The Concert"


During

a fallout with his friends, Lars gets content playing on icicles, then Lena and Peeps join with their own instruments and start up a concert.

15
"The Book"


Lars

digs up a treasure chest. Inside he finds a book about bears and he won't share it, but finds sharing is more fun with friends.

16
"The Teddy Bear"


Lena

finds a teddy bear. Lars grows fond it, while Peeps gets jealous. Comforted by Lars' friendship, Peeps accepts the teddy bear as a friend.

17
"The Flower"


Lars stumbles across a rare flower and patiently waits for it to grow. Lena and Peeps help Lars protect the flower.
18
"The Sledge Dog"


Lars

and Lena help Fuzzy Husky who is stuck in an ice crack, then take him across the water to help him win and qualify in the dog sled race.
The Little Polar Bear has been screened several times on BBC1 and BBC2 in the 1990's and 2000's, CBBC on Choice premiered the series on Monday 6th March 2000 at 8.20am, 11.20am, 2.20pm and 5.20pm and was shown twice until Wednesday 20th April 2000. It returned at weekends beginning on Saturday 4th November 2000 at 6.40am, 9.40am, 1.10pm and 4.10pm until Sunday 31st December 2000. It's second weekday slot began on Monday 2nd April 2001 at 6.55am, 9.55am, 12.55pm and 3.55pm and continued until Wednesday 25th April 2001. It was shown twice at weekends again after this beginning on Saturday 6th October 2001 - Sunday 25th November 2001 at 8.25am, 11.25am, 2.25pm and 5.25pm before going on a break for Christmas 2001 and returning again on Saturday 12th January 2002 - Sunday 10th February 2002 at the same times as before.