Originally a children's radio programme on BBC Radio 5, Wiggly Park was a British BBC children's television animated cartoon which was produced in 1997 and shown in 1998. The characters were voiced by British actors Andrew Sachs and Kate Sachs.
The show revolved around the adventures of six friends in their home, a large town park. The characters included an earthworm named E.W., a slug named Nifty (who was characterised as being rather slow and a bit dim), a snail called Shelly, (who was French and female) Moggy the caterpillar who was very greedy, Buzz the bee, and a tortoise named Thera who was very old.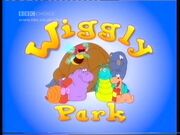 Wiggly Park has been shown on BBC1 and BBC2 from 1998 - 2002, CBBC on Choice has also repeated Wiggly Park from 2000 - 2001, It premiered on Monday 4th December 2000 at 7.50am, 10.50am, 1.50pm and 4.50pm and was shown throughout Christmas 2000 and continued until Friday 5th January 2001. It returned in a weekend slot later in 2001 from Saturday 11th August 2001 - Saturday 24th November 2001 at 9.25am, 12.25pm, 3.25pm and 6.25pm. It was also repeated on Nick Jr from 1st September 1999 - 1st February 2002.